Trio of Skincare Products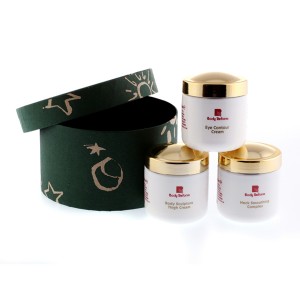 Product Code:
TOSP1
Availability:
In Stock
Price: £65.00

Three of our most popular creams in a beautiful hand made gift box containing:
BODY SCULPTURE THIGH CREAM A dream of a cream that melts away fat. A non-greasy formulation base enriched with Wheatgerm Oil, rich in Vitamin E, Lanolin and Aminophylline. Wheatgerm Oil - Rich in Vitamin E - especially for dry and sensitive skin. Vitamin E - For its healing, moisturising and nutritive properties. Particularly beneficial for mature and dehydrated skin. Aminophylline blocks the receptors of the enzyme, which inhibits fat cells from burning up stored energy. With the absence of the enzyme inhibitor, the fat cells can be more easily mobilised thus reducing the amount of stored fat and smoothing away those pockets of cells that create bulges in the connective tissue. Acts by interfering with the action of the hormones that regulate the storage and release of fat. Also works as a diuretic, drawing water out of the cells. Body Sculpture Thigh Cream A non greasy formulation enriched with wheat germ oil and rich in vitamin E, that will gradually contour and minimise the effect of cellulite. Your skin will feel softer, look firmer and less dimpled. Directions: approximately 1 teaspoon of cream massaged into the area twice daily. Apply anytime, but preferably after a bath or shower. Suitable for all skin types.
EYE CONTOUR & FACIAL CREAM150g Formulated to help combat the visible signs of aging, especially around the eyes. The epidermis (the layers of skin we can see) thins with age and its ability to hold moisture diminishes. Regular use of the Body Reform Eye Contour & Facial Cream helps improve the capacity of the skin to bind moisture. Directions: Apply with the gentlest of touch around the delicate eye area and smooth gently on to the rest of the face. Use morning and night. Suitable for all skin types.
NECK & DECOLLETAGE SMOOTHING CREAM 150g A smooth and rich moisturising cream. Containing Jojoba to help protect and nourish this delicate area. Thanks to a combination of restructuring anti-ageing ingredients which visibly smooth out wrinkles and minimise flaws. Immediately beautified, the skin on the neck and decollete becomes soft, radiant and even. Wrinkles are softened, the skin looks smoother and firmer. Directions: Apply all over Neck & Decolletage area, using gentle upward movements. Use morning and night. Suitable for all skin types.
Write a review
Your Name:
Your Review:
Note:

HTML is not translated!
Rating:
Bad
Good
Enter the code in the box below: